We are an award-winning production company specializing in corporate cinema, experiential video, film and corporate photography.
---
Located in North Atlanta, we communicate a vision or purpose for an organization in a compelling way that demands an audience's attention.
Shane Ortiz. President, Director &  Senior Editor
Shane has won numerous
awards
for his work in the advertising world and has been nominated twice for an Emmy for his celebrated style as an editor.  Shane has built an impressive reel of distinguished work for many Fortune 500 clients.  He is well known for his documentary style media, emotionally captivating storytelling for organizations and ad agencies from all over the world, and is consistent in delivering projects that exceed his clients expectations.
 In 1999, Shane began directing and editing video for nonprofit organizations, as well as producing music videos for Grammy award-winning artists. Shane's expertise extends beyond film work, as he has an extensive background writing, producing, and performing music for global projects, other artists, and soundtracks. He is often talked about as the man who has the talent to compose and create almost anything.  He brings a musician's sensibilities to his noticeably outstanding work as a director, cinematographer, and editor.
Shane and his wife,
Kelle
own and run Soteria Productions, where they successfully manage a roster of seasoned professionals producing video for numerous high-profile clients. They live in Roswell, Georgia with their three children- Jack, Xavier and Gigi.
 

Kelle

Ortiz.  Executive Producer and Screenwriter
Kelle developed Soteria Productions in 1998 after returning from South Africa as a missionary. She set out to build a company that develops and produces excellent experiential film and media. For the past 20 years, Kelle has overseen every aspect of what's become an award-winning production house in Atlanta. She has produced commercials for agencies all over the nation, written and produced more than 70 music videos, created more than 200 scripts for Fortune 500 companies, nonprofits, and international ministries. For over 20 years she has developed several documentaries along with numerous corporate films for FamilyLife, Arby's, SPANX, Georgia Pacific, Georgia Power, Intouch Ministries, Coke, Vitamin Water, Regions Bank, MD Anderson, Verizon Wireless, Chick-Fil-A, SONY Records, and Simmons Beautyrest, to name just a few—all to a high standard of excellence, as the company's multiple awards demonstrate.  Kelle has the unique ability to remember meals she has eaten since she was 4 years old and is continually in search for a great taco and cheese dip-with Shane and their 3 incredible kids.
Amylyn

Dan. Director of Creative Services
Amylyn received her first ever production experience through a Soteria internship back in her college days. She then explored the ad-agency world after graduating, and has since returned to Soteria full-time in the summer of 2016 to manage the studio and all productions going on. Amylyn has worked on projects such as End It Movement, Verizon Wireless, Vitamin Water, Beauty Rest, Coca Cola, Home Depot, Whole Foods, and many more. Amylyn lives in Sugar Hill with her husband and their two dogs, Naia & Pippin! You'll often find Amylyn with a dog, designing with flowers & vintage furniture, playing board games, or hunting for the best chocolate chip cookie in Atlanta.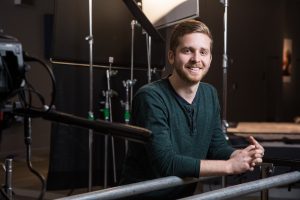 David Goehring. Camera and Editor
David is an award winning filmmaker who has been making films since 2008. He's won numerous commercial contests which has netted him exposure all over the world and included his work in several national advertising campaigns. David found his love for editing while shooting, taking his experience as a filmmaker into the editing suite. He loves the power of editing and the ability it has to move an audience. His career has included everything from nonprofits to churches to prestigious clients such as Coca-Cola, FIFA, Porsche, Yellow Pages, WinShape Camps, Maaco, Danley Sound Labs, and more.
Lani Martz. Senior Producer
Lani is known around the southeast as "the girl who can get it done"!  Since 2001, she has managed every type of production under the sun. Her resume spans from commercials, music videos, films, corporate cinema, to advertising photography shoots. She is a terrific collaborator and skilled at bringing together all the pieces needed to make a production successful. With her high energy level, she is the go-to gal for everything from invoicing and accounting to casting to finding the perfect location. She has had the honor of working with AIG, Georgia Pacific, Verizon Wireless, Arby's, Intouch Ministries, Alternative Apparel, Simmons Beauty Rest, Vitamin Water, and many others around the nation.  When not doing a myriad of jobs, Lani is a wife and a mother to 3 energetic kids.  She also can make a pretty darn good stromboli.
Brian Hall.  Senior Photographer
Brian Hall began shooting musicians' portraits and live performances in 2005. Growing up in the music world it was a natural place for him to begin his career. In 2009, before graduating with Best Portfolio of Gwinnett Tech's Commercial Photography Program, Brian officially started his own photography company focused on music and editorial work. After traveling the country twice as a photographer documenting the travels of internationally known band called The Chariot and completing editorial assignments for multiple bands, companies, and magazines including Rolling Stone, Brian began moving into the commercial world. He has completed commercial assignments for Red Bull, Delta, Cintas, Oberto Beef Jerky, Georgia Pacific, BB&T amongst others. Brian joined on as Soteria's Senior Photographer after completing multiple shoots with their clients BB&T, Georgia-Pacific, Whole Foods, Sapient Nitro, and Home Buyers Marketing.  Brian lives in Marietta, Georgia with his wife Mattie and pup Morty.